As per request, I ran out to check out the remains of a shelter on the Long Trail which was ignorantly burned to the ground this spring.
The heavy rains of last night had softened the ground to a wonderfully squishy mud, perfect for five-fingers and puppy paws :)
Despite the rain, the late season and thick canopy made flowering a scarce find this morning.
Much more popular were the vibrant colors of plants moving way past their prime and into...the fall!!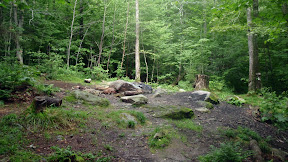 Ah, behold the sight of the burned Tucker-Johnson Shelter, where I awoke on the morning of my 30th Birthday. Now, just the rocky remains in a clearing mark the memories.
But new life has sprung up in its place; these mushrooms were spotted growing up out of the ash.
Heavy trail work by the Killington Branch of the Green Mountain Club has prevented some sections of the trail from being knee deep mudpits.
While other sections seem to slice directly through some fantaticly skiable terrain...plenty of room between those trees!
One of the eeriest parts of the hike was coming out of the woods onto the intense traffic of Route 4. Like some kind of scene from either Children of the Corn or Field of Dreams. Either way, creepy.
But then, a final flower amidst the dense green to wish us a fond farewell on our journey back home.
See you on the Mountain,
FemaleSkiBum :)
Location:The Long Trail, Killington, VT