Oh, my mountain, how I have missed you! It feels like weeks and weeks since I have stood atop your several peaks and looked out at the beauty that is Vermont. So today, I headed out on my journey with only the goal of celebrating my backyard, my playground & my home: the mountains known as Killington.
We began on my favorite bike trails and headed up the North Side of the mountain, choosing to say hello to an old friend as Vespi & I bushwacked up through the head high brush that claim Upper Swirl as their home. It's not so bad when the dog is breaking trail ;)
Ah, but the view from the true summit of Ramshead remains one of my favorite places to this day. A favorite morning meeting when the Children's ski school director got off the RHQ and, without saying a word, took his skis off and began hiking up to the summit. A happy memory from a happy time :)
Anyone who has skied out of the Alpine Training Center calls the Snowdon Poma home. There is just something magical about a surface lift that creates a feeling of freedom: whether it's the freedom of getting off before the end, of flirting with lifties before you know what flirting is or just laps and laps of gates until all courses you've ever skied merge in your mind as one...the Snowdon Poma is a magical place. And not just for the Hopefuls who master the lift for the first time, but also for Coaches & Grown-Ups. This winter I rode the poma on one ski for the first time and was surprised - not that I could do it, but that I had never even tried it before. And I never stopped giggling, not once all the way up :)
After a jaunt through Jon's Stupid Trail, I headed back into the woods to check on how Rosey and Corey were doing getting ready for the Downhill Mountain Biking race this coming weekend. Looks like the course construction is all finished and just setting up now, so the boys were setting up the flagging. That's Rosey toilet papering Trail 7A, the double black section that has completely overwhelmed me time and time again - in the summer, that is :).
Aft a short chat, it was time for some more bushwacking, this time up Poweline to the top of the Glades. I think this is one of Vespi's favorite sections of the mountain because underneath all that tall grass is just a big muddy mess. A great way to cool off our feet (and yet another reason why I run in five fingers!) while we continued on our way up to Killington for Peak #3. I was surprised to find that you could see from Powerline to West Glade; I hadn't noticed that before. Weird. But then again, Powerline has only been an official trail for a few years, so in all fairness it's difficult to check out the view when being chased by bumble bees ;) heeheehee
Then it was up, up and away to the Peak, to which I absolutely hate going when the gondola is open. It's not that I don't like the view, or sitting atop 900 million year old rock. It's just that i hate sharing it with screaming children, hoky tourists and...well, you get the idea. Now in the spring and fall, I will take Vespi up there and we will sit for hours and breathe in the fresh mountain air as a reward for our vertical journey. But during the summer, the Peak belongs to the tourists. Well, except for that one puddle of water that fills up every rainstorm. That puddle belongs to Vespi. In fact, she actually practically shoved a ten year old boy out of the way today to get to her puddle.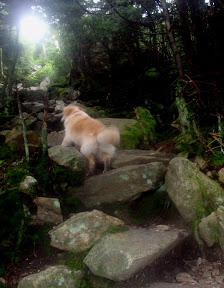 I'm sorry, I know that I am droning on and on today, but a month of driving back and forth to New York seriously makes me appreciate how special my home mountain is. I even had the surreal expereince of going to a NY Walmart. It was traumatizing, like a scene out of Idiocracy. I felt like weeping for the world as I walked through boxes and boxes of "food.".
So I will keep my big mouth shut and let you enjoy the way back down to K1 on your own, via Skye Peak & Bear Mountain. I hope that you enjoy and appreciate my home as much as I do. Thanks for runninng with me today :)
See you on the Mountain,
FemaleSkiBum :)
Location:RamsHead, Snowdon, Killington, Skye & Bear Mountain Peaks, Killington, VT