In Vermont, there is always someone doing something - you just have to find them. And in the summer, the task of finding people becomes an art form as local people take to the woods, lakes, streams and roads for a variety of different activites. I had the good fortune this past Monday of spending the evening at Peppino's with a good friend. As she poured my wine from behind the bar, I found out that she has been offering a free yoga class (donations encouraged, of course) on the lawn of
Base Camp Outfitters
on Friday mornings.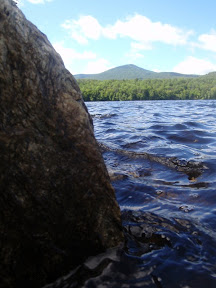 So my morning began with a beautiful yoga session, basking in the sunshine amidst the wildflowers and looking out into the mountains. Different than my usual practice, we stretched slowly and gracefully, allowing the peace to creep into our bodies rather than demanding its presence. It was seriously beautiful. As we lay in the final pose, palms open to the sky, you could hear the leaves rustling in the breeze, getting ready as the changing of the season begins :). Namaste, Ali, namaste.
Then it into the car and around the corner - literally - to the local paddling hole for a quick lap around the lake. I LOVE Kent Pond. There is something special about paddling when surrounded by the mountains you call home. Both Killington and Pico rise above the shores of Kent Pond, creating a feeling of security, for these mountains would never harm you, they protect us, shelter us, embrace us.
And Kent Pond is home to so many wonderful things: a young family of Loons with two babies in tow, a few ducks and the unfortunate pack of Canadian Geese pecking at all the crumbs left at the boat launch. The lily pads are starting to turn yellow and filling with holes while the water grass is browning as it floats along the surface. Yes, the pond too marks the changing of the season.
Fall is definately on its way. You can see some of the birch leaves beginning to turn into their autumn color!! Ever so slightly, the Earth is prreparing for the beauty of winter. Let us enjoy the colors, the crisp clean air and the beautiful breeze as they escort us toward a peaceful world blanketed in snow white.
May You Find the Spirit of the Mountains Within You,
FemaleSkiBum :)