What a perfect day for a recovery paddle! I spent the last 24 hours sleeping off the heat stroke that I earned down in Harriman State Park, NY earlier in the week. I would start my day with a 3-4 mile run...and then spend the rest of the day paddling on the water with an enthusiastic group of kids...and then finish the night with a half bottle of wine with old friends. There just wasn't enough fresh water to make up for all that :(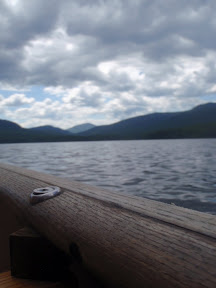 So after a strong paddle across the reservoir, it was time to take a break and get out the camera. I randomly came across this wieerd thing attached to an underwater branch and had to back paddle to get a better look. These colonies, which can appear like fish eggs to the inexperienced observer (that would be me) are actually filter feeders - called
Bryozoans
- that clean the water. I had to look this one up on the internet, which was tricky considering I was looking for fish eggs!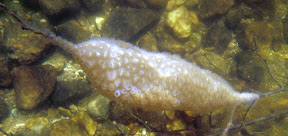 There was a beautifully preserved stump just a few feet down the lake...of the twenty photos I took, non really made me happy. I am still struggling with the underwater settings on my camera. I estimate that by the time I figure it out, the camera will be broken.
Some lake grass - but my favorite part of this picture is the clouds! The temperature was in the low seventies and cloudy enough that I could actually breathe :) Hooray!!
and for a finishing touch...a dead crayfish hiding amidst the rocks along the shore! classic.
See you on the Mountain,
FemaleSkiBum :)
Location:Chittenden Reservoir, Chittenden, VT