First things first, this morning. Vespi and I headed down the trail a ways to fill up the water bottles. It was SO nice to walk without our packs, even if just for a little bit :)
Started off the day with a nice, leisurely breakfast of oatmeal, cranberries, raisins and roasted edamame. Best part? Right when breakfast was ready, it started to rain, so I pulled the flaps down and spent a few cozy hours snuggled up in my sleeping bag with my breakfast, my book & my puppy :)
My sleeping puppy didn't wake back up again until around ten o'clock, and when the rain paused for a break we began our third day of hiking - only it was our turn to pause about .2 miles later at the Mendon Lookout.
So, today's goal was to get up to Killington Peak. That meant around the back of Pico, Ramshead & Snowdon and then up, up, up...
Wierdly enough, we had not seen any non-fowl wildlife until we crossed Route 4 and started up the mountain.
Then it started to rain again, pretty strong at times, making everything seem almost magical. Moss is everywhere, making the forest just seem soft and super squishy.
The trail went from fairly smooth yesterday, to beautiful rocks lining the stone staircases. There are even big, beautiful white granite rocks, decorated with bright green moss. Energy Crystals. When you stand on them and make Three Stooges noises while holding your arms above your head, they replenish your energy.
Rain or shine, today has been my absolute favorite day so far. Everything above 2000 ft is so green and luscious looking, with flowers mixed in with the ferns on either side of the trail :)
I had no idea how severely it was raining until I stopped at Cooper's Lodge for a hot cocoa break! It's pouring!! But my hot chocolate (two packets!!) is so wonderful and warming mw right from teh belly outwaward. Of course, dry clothes and shelter don's hurt too badly either. On the trail, there were places with such thick canopy that the ground was dry!
Did I forget to mention that there is a mini waterfall inside the shelter? Right where the fireplace comes through the tin roof. But is making a lovely pool of fresh water for Vespi, who drank her fill and is now resting on the one section of rock not strewn with the glass from broken beer bottles. Maybe this place just needs a HUGE Leave No Trace Poster.
In the debate to hike up and over Killington Peak in the rain, we did not. We both decided we had been to the peak a few times before, when it was NOT sheeting rain, and took the high road out to the Glades Triple instead.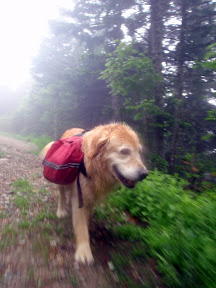 One last crazy section to hike through as we both started hobbling from the descent. Vespi was developing saddle sore around her front armpits and my left knee was shreiking. Thank goodness there was an old piece of ski patrol bamboo lying around the Vista Deck - classic walking stick :)
and then sweet sailing for the rest of the way home. Lower Vagabond was simply beautiful as we traversed Snowshed Crossover :)
But we did it!
My first solo backpacking adventure.
3 days, 2 nights, 34 miles on the Appalachian Trail
From Rt 12 in Brandon, Vermont all the way home :)
See you on the Mountain,
FemaleSkiBum :)