Stopped at the cross-country trails today since I had to go grocery shopping :) It would be nice if I woke up before it got too hot...notice how Vespi is hiding in the cool brush on the side of the trail?
Her first stop, after pushing up Rembrandt's & Jersey Turnpike, was to run straight into the muck that is Rocky Pond. She goes in a beautiful golden retreiver...and comes out The Black & Tan!!
I don't know, some random bright orange fungus growing on the side of the tree. Sometimes, Vespi finds the most interesting things...
We had to check out the new Overlook Trail alongside the pond...sooo very nice and smooth. Mike and about 20 kids were working on the top section of trail - talk about manpower!
It was just after this that I slipped on a rock and sliced a nice laceration into my right knee. I seem to be having quite a bit of trouble twisting out of my SPD this season...or just enhancing my collection of mountain biking battle scars :)
After some lunch and yoga, we noticed that Vespi was limping a little bit on her front left. It usually helps her to just walk out the kinks, so we took a quick spin up into the Canyon. Sucks to be me, but they hadn't weed-wacked yet and all the plants were driving my laceration crazy!
The stream that crosses under Trail 8 is on of my favorite swimming holes for the Black & Tan :) and a great break for her when we're pedaling.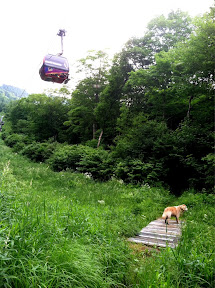 It's actually a nice twenty minute jaunt up to the Canyon Quad...with great views in anticipation of sitting there, at the bottom of Cascade, Downdraft, Double Dipper, Big Dipper, East Fall & Royal Flush...kind of like a mini Tuckerman Ravine :)
But the trail simply evaporates beyond Royal Flush and you are forced to just close your eyes and place your feet into the mud...it's a little disconcerting at first, but that's when I send Vespi ahead to pack down the foliage ahead :) In the end though, it's all worth the view!
See you on the Mountain,
FemaleSkiBum :)
Location:Pine Hill Park, Rutland, VT and The Canyon, Killington, VT