I have stolen my twelve year old cousin from urban Maryland for a few days. So the first thing I could think of was to load up the canoe and drag her out onto the water for a few days, paddles in hand :)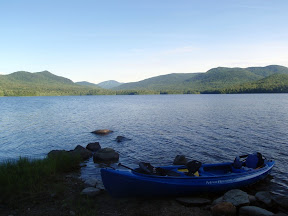 We followed the shoreline, giving her plenty of time to discover life on the water - and learn the meaning of having all your ducks in a row :) She even kidnapped my camera for awhile...which meant that I got in quite a bit of one man practice...
She was fascinated with how much drift wood there was on the reservoir, and totally surprised when a crane suddenly seemed to fly out of nowhere :)
Aaron met us at the campsite with a canoe full of fishing supplies...
After making the bug fire and learning how to set up the tent, Megan put her nose right into her book.
But every once in a while I saw her pause and just stare out onto the water...
Even as the bugs came out - the canoe was COVERED in little green bugs - she sat quietly with us and enjoyed the beautiful Vermont evening :)
While this was her first experience with both canoe and tent camping, Megan has camped before. A few years ago, a nine year old Megan joined my dad, Aaron & I for a snowshoe to celebrate my 30th birthday. We spent a 20 degree night at the old Tucker-Johnson Shelter on the Long Trail in Killington, Vermont. Oh yeah - and there was three feet of snow because it was the end of March.
See you on the Mountain,
FemaleSkiBum :)
Location:Chittenden Reservoir, Chittenden, VT