Vespi and I had some time to kill before we had to switch the laundry, so it was a quick jaunt up RamsHead this morning...
So, I am thinking that perhaps this snowmaking pipe needs to be replaced? Did someone get mad and kick the pipe with their koflachs, miss with the bucket loader or get a little zealous with the grooming blade?
It is just so amazing to see so many different colors in such close proximity to each other...if only skiers and snowboarders coud share the mountain with such ease :)
Another great mountain biking bridge! This time, it's made from old cat tracks!! I love all the little nuances of mountain biking on a ski mountain - the trail builders have to get a little creative :)
The view from the top of the RamsHead Quad looking toward Swirl...
...and looking through the RamsHead Quad looking toward Skye Peak.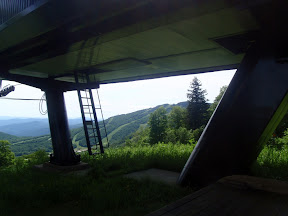 See you on the Mountain,
FemaleSkiBum :)
Location:RamsHead, Killington, VT