While digging through some old boxes of stuff, my dad found the 1974 Killington Summer Brochure!!
The cover shows the summit nature trail, an interpretive walk now known as Trail J, which loops around the peak from the top of the Ole K Chair...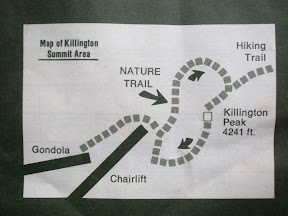 I have always wondered what the random numbers mean which have lined the trail for as long as I can remember. Now we know! Next time I go up, I will have to look for the Nibbled Branches marked by the #5...On another note, I wonder how nasty the trail looked littered in polaroid film backing :)
Check out this great map of the Killington Ski Area from 1974...note the original K Chair and 3-Stage Gondola...and the absence of Bear Mountain, Sunrise, the South Ridge & Canyon Areas.
and just think...all this cool mountain air - including great fishing in the 7 acre Snowshed Pond - could have been yours for only $8 a night, per person double occupancy. Ten Dollars if you want a fireplace and kitchenette!!
See you on the Mountain,
FemaleSkiBum :)
Location:Killington, VT