Three days after the big rain, we went and checked out my childhood camp. After stopping at the cabin to get some lanyard, we donned our raincoats and worked on our keychains as we walked around camp...
I had never seen so many acorns littering the beach!
Poor Big Blue, sitting there all winter long, waiting for someone to love him...
...but it was drizzly, so we spent some time going crazy on the tire swing ;)
...and then walked up Seven Steps through all the bare brush and leaves on our way back to the site...
...back around the Museum where the brush had actually started to slowly grow back in...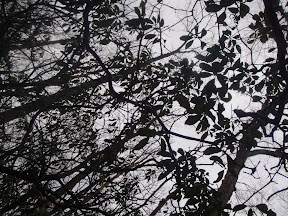 ...and down to the Dirty Dancing Bridge, which was over a pond rather than a stream because of all the rain...
Thanks, Megan, for an awesome time at camp!!
See you in the Woods,
FemaleSkiBum :)
Location:Camp K-20, Harriman State Park, NY