So I skinned up from the house to the Canyon Quad in hopes of enjoying such a wonderful day with a little slack country...but then ended up on the lift with an ambassaador and two joeys. ugh. now I remember why I listen to my iPod while I ride lift service.
But what an amazing day!! For my first time on the North Side since last Saturday, I was amazed at how firm everything was - even Double Dipper which had been basking in the sun! Well, soft snow is easy enough to find if you know where to look...
that's easy -where nobody else has gone!! Untracked srping skiing in the woods :) Hooray!
and when you hear everyone complaining Killington is closing with so much snow...there is about two feet here above the runoff stream leading down to the Northbrook Area...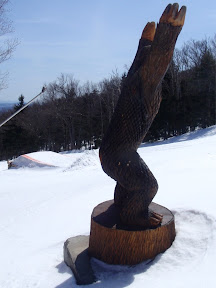 ...and they have enough snow to block off the big booters in the Stash...
and tons more in the woods!!